Mar 27, 2020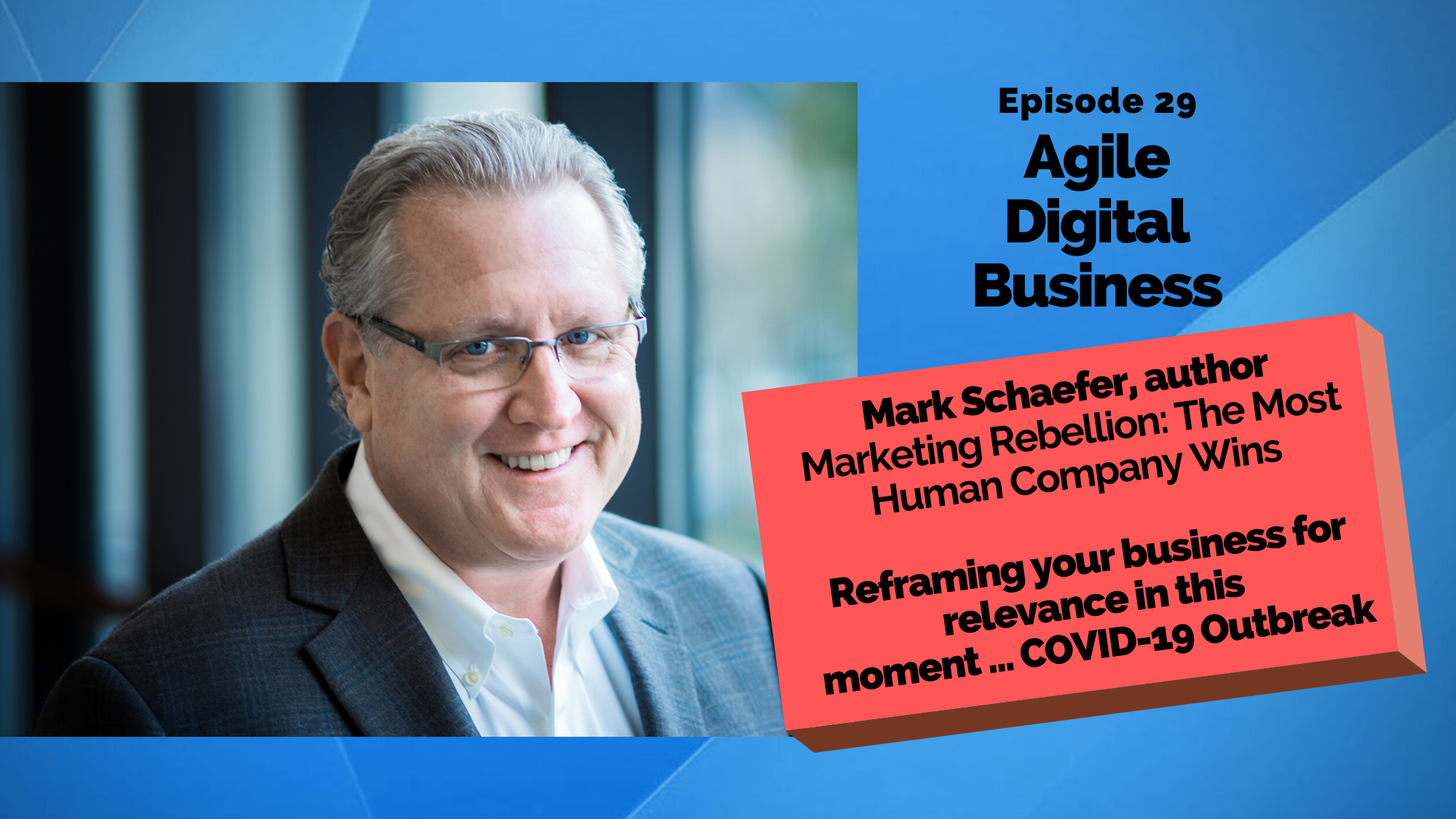 Mark Schaefer, author of Marketing Rebellion: The Most Human Company Wins, is my guest on Episode 29 of Agile Digital Business.
He provides many valuable insights and examples of how companies can be reacting in the COVID-19 global crisis to remain relevant in the eyes of their customers.
0:12 "We have to think about the context of this moment..."
1:15 Welcome in to Episode 29 from host, Vickie Maris
2:20 A shoutout to Amanda and Jerry for submitting questions for Mark
2:34 Music
2:41 Introduction of Mark W. Schaefer. He is author of 7 books including Known and his latest book, Marketing Rebellion: The Most Human Conmpany Wins.
Mention of episode on Edge of the Web Radio hosted by Erin Sparks.
3:24 Experience as an instructor in the executive education classroom. Mark Schaefer taught a day of instruction on social media in the Digital Marketing Certificate program in its former structure of a 5-day program taught in Chicago, Illinois and done in collaboration between Rutgers University and the University of Notre Dame. (the university links will take you to the currently-available options for Digital Marketing Certificate programs at both institutions)
4:04 #agiledigitalbiz is the hashtag to search to find resources mentioned. I also use the hashtag, #teachinspireconnect
4:20 Marketing Companion - podcast that Mark co-hosts with Brooke Sellas
4:31 Digital Transformation - podcast that Mark co-hosts with Douglas Karr
4:48 Mark Schaefer was a speaker at Social Media Marketing World #SMMW20
5:04 Mark's opening comments of the interview
5:50 A thank you for the blog post on the businessesgrow.com blog: 7 Non-obvious coronavirus implications for marketing
6:37 These are unnerving and unprecedented times ...
7:05 "I can't imagine an event in my lifetime that would cancel baseball. Or cancel the Kentucky Derby..."
7:52 Looking at the relevance of our business in this moment.
Quote to share ...
9:24 "It's time to reflect on this for all of our businesses. What we have built. What we love to do. What we're proud of. May not matter right now. We have to think about the context of this moment." Mark Schaefer, author of Marketing Rebellion: The Most Human Company Wins
10:19 "We need to be sensitive that we're going through a process of grieving. Our customers are grieving. The unmet and underserved needs of our customers are changing."
"We have to look at applying our core competencies in a way that is relevant to this moment."
10:45 Examples of companies that have shifted to meet current needs: "They are re-imagining and reframing their business in this moment."
U-Haul is offering free storage for a month to college students who are being evicted from their dorm rooms.
13:30 I share an example of how the global crisis with the spread of the coronavirus has effected my focus, and I mention how deep breathing has been helpful.
14:56 Client asked Mark how do you sell in an environment like this. Question to ask: How would you sell to someone at a funeral? ... You would say, I'm sorry for your loss. What can I do to help you. What do you need from me right now ... I want to be here for you."
15:50 I mention how important it is to reach out and ask for the voice of the customer in the moment.
16:31 Discussion about the explosion for opportunity to innovate.
17:27 "The beauty of America and the beauty of capitalism is that people are just frantically driven to figure it out."
18:30 Example of innovation by a furniture manufacturer in a previous global crisis.
21:48 I mention the topic of voice interfaces and ask for examples of how a digital voice assistant has been used during the crisis. Mark shares that what he has been seeing has been focused around safety, comfort and meeting basic human needs.
24:02 "People are really seeking human connection right now in a big way."
24:25 Discussion about how revenue streams for speaking and consulting have changed drastically. Review core competencies and how can you reframe to meet the needs of your clients now.
26:15 Q/A - questions submitted by members of my LinkedIn book club group that was set up to review Mark's book, Marketing Rebellion.
27:12 Jerry Cunningham asks if Mark has any BDPs of companies taking care of their super loyal customers. Example given is from the tech industry.
30:18 A theme of the marketing rebellion book is that today, two-thirds of our marketing is occurring without us.
30:40 Extraordinary approach of making customers feel they are a part of the product development team.
30:55 Question from Amanda: Something I have been thinking as I begin looking into starting my own local business, how do I poise myself as an authority locally? I was reminded in a post how "Businesses are taking a tremendous hit right now. The flow of goods is disrupted beyond anything that we have ever seen." It seems like it will be all the more important once the flow of traffic goes back to normal to have a clear marketing plan to let it be known you're still in business.
33:50 Discussion about how to take people on the journey with you if you're developing your voice in the industry and establishing authority; or the other option is that you're already an authority.
38:00 Music
38:01 I wrap up the episode and challenge you to Teach. Inspire. And Connect!
Thanks for listening to the show! And for reading through the show notes for Episode 29.
Vickie
#teachinspireconnect #agiledigitalbiz #podcast
Note: Links to Amazon in the show notes for the podcast are typically affiliate links. This means if you click on a link and order the book, or the product, I would receive a small percentage of revenue from the sale of the product. Thanks for you support of the show. I also welcome you to support the show through a subscription in any monthly amount at my Patreon account: https://patreon.com/vickiemaris