Mar 19, 2020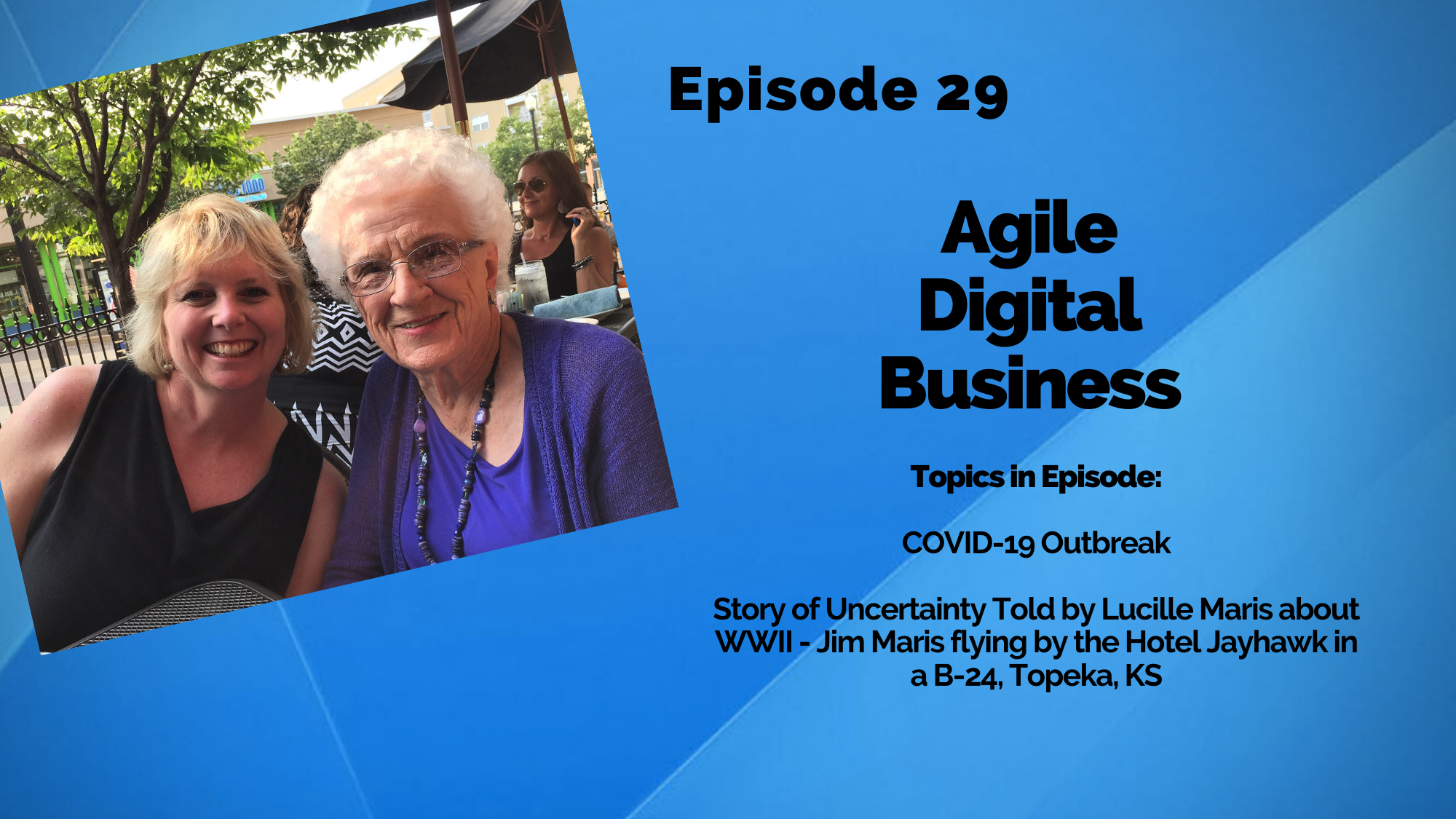 In Episode 28 of Agile Digital Business I share an interview with a loved one who experienced the uncertainties that came with World War 2. This episode is a shift from the topic of voice interfaces and smart speakers that I've been addressing in Season 2 of the podcast.
00:30 A mention of the global crisis of the spread of COVID-19
1:07 Setup of the interview with Lucille Maris about her experience of saying goodbye from a hotel rooftop in Topeka, Kansas as my dad, Jim Maris, flew over with his crew in their B-24.
1:49 The background music starts as I talk about the characteristics of courage, faith, tenacity and the ability to face uncertainty during times of change.
Tweetable: "That was just what we all did [during World War II]." - Lucille Maris, 97, wife of Jim Maris, an US Army Air Corps bomber pilot #quote #aviation #mindset #uncertainty #coronavirus
2:35 Talking about the unknowns associated with World War 2 - an event that reached around the globe.
3:05 Steps that my 97-year-young mom is taking to maintain her good health during the threat of the coronavirus. (Drinking water, exercising, meditation, prayer, eating well, chatting with friends over the phone to stay in community.)
4:45 Preview of audio that is included in the next episode, 29, which is my interview with Mark Schaefer, speaker, consultant, and author of seven books. His most recent business book is Marketing Rebellion: The Most Human Company Wins.
5:45 An invitiation to you to subscribe to this podcast, Agile Digital Business. Please share this episode with a friend, family member or colleague.
6:03 Mark Schaefer talking about the importance of thinking about the context of this moment, and how we as business owners and organizations respond.
6:58 "We need to think within the context of this moment...We're going through a process of grieving, I think our customers are going through a process of grieving. We need to be sensitive to this - the unmet and underserved needs of our customers are changing dramatically." Mark Schaefer
7:10 The show notes are available at my blog here in Libsyn, https://vickiemaris2.libsyn.com
You can also search on the hashtags: #agiledigitalbiz and #teachinspireconnect (resources from other content sources that I think you might find helpful).
8:15 Interview I had with my mom, Lucille Maris, in 2014 as she recounted the story of saying goodbye to my dad in 1943. He left Topeka in the B-24 bomber with his 10-member crew. They buzzed the top of the Hotel Jayhawk and waved the wings of the aircraft to say goodbye to my mom and the three other wives standing atop of the hotel.
14:08 Working on the editing and additional writing to my dad's memoirs from World War II. I'm adding mom's perspective as a stateside bride on the homefront.
15:29 Summary of the work of Professor Jim Maris at Purdue University as Department Head of Aviation Technology. He also continued to teach a course in Aviation History and did public speaking about his perspective as a pilot in World War II.
16:45 You can find the video documentary course in Udemy at https://udemy.com/u/vickiemaris
17:25 Invitation to you to join my broadcasts from my Facebook page to share excerpts from the 30-day journal, Changing Life After a Life-Changing Event: 30 Journal Prompts and Stories to Help After a Loss.
18:39 Thank for listening to Episode 28 of Agile Digital Business. The next episode is the interview with Mark Schaefer.
#teachinspireconnect #agiledigitalbiz